Each year, the Greenville County Library System celebrates Hispanic Heritage with special offerings including art exhibits, virtual activities, coloring sheets for children, and more.
2023 Hispanic Heritage Art Exhibit
An Art Exhibit featuring Aura Ramírez-Guerrero
About the Artist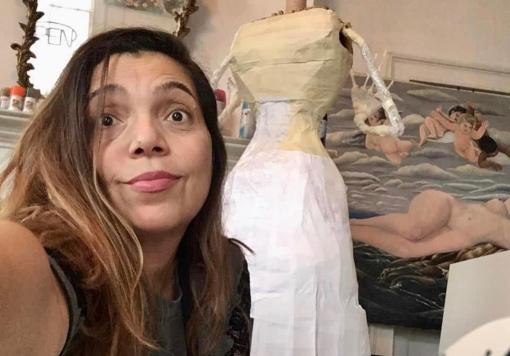 Visual artist Aura Ramírez-Guerrero was born in 1963 in Merideña, Venezuela. She has resided in Columbia, South Carolina, for the past twenty years. As a child, she developed an interest in the arts and pursued formal training at the Universidad de Artes Visuales en Mérida. After raising a family, she rediscovered her passion for art. Her work, which has been described as naïve, is notable for its colorful landscapes through which she explores elements of Impressionism and Surrealism. With her colorful work, Ramirez-Guerrero seeks to convey the simple beauty of life.
Aura Ramírez-Guerrero nació en 1963 en Merideña, Venezuela y desde hace veinte años reside en Columbia, Carolina del Sur. Inclinada a las artes desde pequeña, Aura cursó estudios en la Universidad de Artes Visuales en Mérida (UNAVi). Después de muchos años dedicación casi exclusiva a su familia ha retomado su pasión por el arte. Cultiva un estilo ingenuo y en su trabajo se destacan los paisajes rebosantes de color en los que ella explora elementos del impresionismo y surrealismo. Ramírez-Guerrero busca transmitir con su obra llena de color la belleza simple de la vida.
---
Hispanic Heritage Activities

Download & Color
Download free coloring sheets based inspired by papel picado--a Mexican folk art paper crafting technique.
---