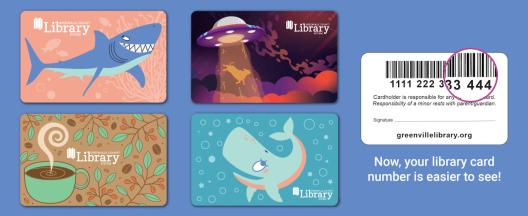 A Greenville County Library System library card gives you access to materials, resources, and services offered free with your library card. With your library card, you can also enjoy downloadable materials as well as streaming and many other online resources through the Library's website.
Greenville County Resident Cards
Ages 0–17
Cost: Free (replacement card: $1)
Required: Photo ID & proof of address. Parent/legal guardian must complete and sign an application at any Library System location. Aquí está la solicitud en español para una tarjeta de la biblioteca.
If child is not present when application is completed, proof of child's existence is required, such as a birth certificate, report card, social security card, insurance card, or school ID
Card update: Every two years
Ages 0–4
Little Learners Card
Checkout limits: 20 children's books and 10 children's music CDs
Ages 5–12
Free canvas tote bag
Checkout limits: Standard
Ages 13–17
Ages 18+
Cost: Free (replacement card: $1)
Required: Photo ID & proof of address
Checkout limits: Standard
Card update: Every two years
For: Residents of Greenville County living in temporary housing.
Cost: Free
Required: Photo ID & proof of address
Checkout limits: Two items at a time
Patrons with this card type will not be able to access the following services

Interlibrary loan
Museum & park passes
Meeting space reservations

Card update: Every 90 days upon request
Other Card Types
---
Photo ID & Proof of Address
When you arrive at your nearest Library System location to get a library card, you will need to bring a photo ID and proof of address. If your SC driver's license or state ID card has your current address listed, that's all you need. Otherwise, bring one item from each of these lists.
Photo ID (bring one):
Driver's license
State ID card
School ID card
Passport
Company ID badge
Matricula Consular card (issued after 2002)
Other government issued or internationally issued ID
Proof of Address (bring one):
Lease agreement or mortgage document
Report card with current street address
Utility bill (no older than 30 days)
Check featuring current address
Piece of mail featuring your street address (no PO boxes) post-marked within the last 30 days
Receipt from RV park or Inn or letter from shelter, agency, or employer verifying temporary housing status
Current paid tax bill or proof of current enrollment in school for non-resident property owners or students
---
Updating Your Account
Library card accounts are periodically updated. If you've provided your email address (either at registration or by updating your account online) you will receive an email notification when your account needs to be updated. You can update your account by visiting your nearest library location and presenting your library card, your photo ID, and proof of current address. During this visit, you will also need to return or renew any overdue materials and pay any outstanding fines on your account.
---
Cardholder's Responsibility
All Library cardholders (or parents/guardians signing for a minor cardholder) are responsible for abiding by Library policies and assume responsibility for all use of their card.
Once you sign up for a card, please:
Report any future changes to the account information you provide including updates to your mailing address and/or other contact information.
Report the loss or theft of your Library card promptly in an effort to avoid unauthorized use.