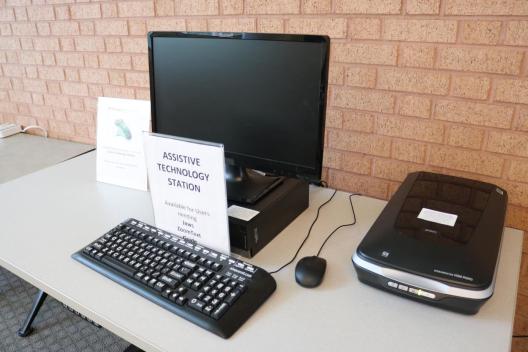 WiFi
WiFi is available at all library locations. Select gclswireless from the list of available wireless networks and click "Accept".
Public Computers
Computers are available for all Greenville County Library card holders to use for up to 3 hours per day. Don't have a library card? Ask a librarian for a guest pass when you arrive. Guest pass holders may use a public computer for 1 hour per day.
You may check out a laptop for in-library use only at select branch locations. Laptops are available for up to 3 hours per day for all adult and unrestricted Juvenile card holders. Available at the following branches:
---
Hughes Main Library Technology Center
The Technology Center at Hughes Main Library is on the upper level and features some resources unique to this Library System location.
Assistive Technology Station
Equipped with reading software for those with visual impairments
Trackball mouse available for those with motor impairments
Design Station (library card required)
Adobe Creative Suite
Flatbed scanner
Music composition software
Job Stations (library card required)
Reserved for job searching, resume building, and other employment seeking activities.
Public Scanner
The public scanner is free and its use does not require a library card.
Westlaw Computer
One of the premier law reference databases in the country; includes access to primary legal materials including court decisions, statutes and regulations from all U.S. state and federal jurisdictions as well as secondary materials including legal treatises and encyclopedias, form finders, and law reviews.
One computer
Reserved for use of Westlaw online database
No time limit for use
Does not require a library card
Ask a librarian for login