For: Greenville County Library System card holders
Loan period: No borrowing, no returning. Yours to keep.
Checkout limit:

10 packets of seeds per visit (Berea Branch only)
5 packets of seeds per visit (Bookmobile stops)

Availability: The Seed Library is housed at the Berea Branch and the Bookmobile
Grow your world! Visit the Seed Library at the Berea Branch and the Bookmobile, and choose from heirloom food, flower, and native plant seeds ready for planting. New to gardening? Seed packets feature complete planting instructions including when to plant, spacing, light requirements, and more. The Seed library was created in partnership with Greenville County Soil and Water Conservation District to:
provide education on sustainability in growing food, flowers, and/or native plants
increase local food production and promote healthy diets
help to preserve plant diversity with regional and heirloom varieties
promote backyard conservation practices to protect Greenville's natural resources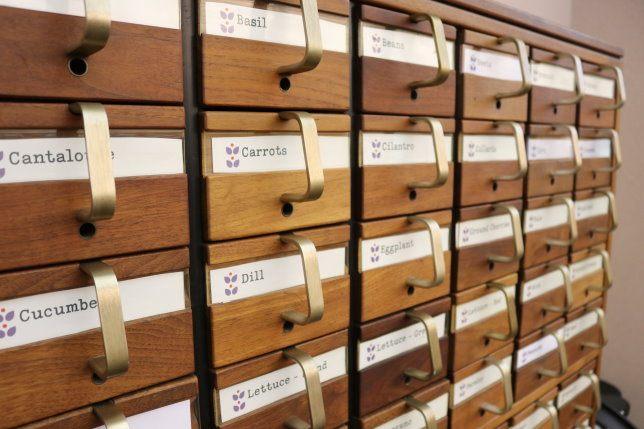 How Does It Work?
Open a drawer and select up to ten seed packets.
Help keep the Seed Library stocked by showing your selections and library card to library staff who will note the seeds you've chosen. You'll also be provided with helpful growing resources for the seeds you've selected.
Take your seeds home to plant and enjoy!
Test Your Soil
Overusing pesticides, herbicides, and fertilizers can be toxic to your health and the environment as well as to beneficial insects and wildlife. Use yard chemicals sparingly if at all. Test your soil before heading to the store or consider using compost to add nutrients instead. During rain events, yard chemicals can runoff into rivers, lakes, and streams. This leads to nutrient pollution. In Greenville County, you can get your soil tested at Clemson Extension.
To learn more, visit Greenville County Soil and Water Conservation District's page about Pesticides, Herbicides, & Fertilizer.
---
Seed Types Available
Arugula
Basil
Beans
Beets
Broccoli
Brussels Sprouts
Cabbage
Cantaloupe
Carrots
Cilantro
Collards
Corn
Cowpeas
Cucumber
Dill
Eggplant
Garlic Chives
Ground Cherries
Kale
Kohlrabi
Lavender
Lettuce
Lettuce - Blend
Mint
Mustard Greens
Okra
Onion
Oregano
Parsley
Peanuts
Peas
Peppers - Hot
Peppers - Sweet
Radish
Rosemary
Sage
Spinach
Summer Squash
Swiss Chard
Tatsoi
Thyme
Tomatillos
Tomatoes
Tomatoes - Cherry
Turnip Greens
Turnips
Watermelon
Winter Squash
Bachelor Button
Bee Balm
Calendula
Coneflower
Cosmos
Hibiscus
Marigold
Milkweed
Pansies
Nasturtium
Sunflowers
Zinnia
Seed types may vary at the Bookmobile.
---
More to Explore